Introducing the New Steelcase Flex Collection
Introducing the new Steelcase Flex Collection which was inspired by teams working in spaces not designed for team-based work who became impatient with their static offices. The new collection helps modern, hyper-collaborative tea
ms adapt their space as their work changes, easily, fluidly and quickly.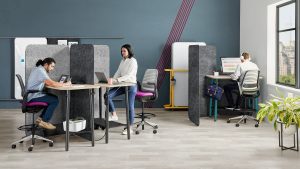 The Steelcase Flex Collection empowers teams to create
spaces that can be rearranged on demand, creating
environments teams and individuals need to do their best work.
The collection is designed for spontaneity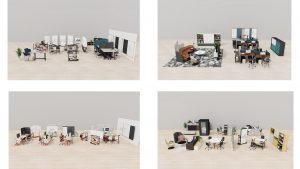 — making it easy to shift between different daily activities — from brainstorm
to a workshop, or from a stand-up to a sprint review.
Steelcase Flex creates dynamic team neighborhoods for the high-performing, modern workplace. By providing
teams with all the essentials to adapt their space as
needed, keep their work visible and shape team identity,
Steelcase Flex supports the changing activities and
behaviors of hyper-collaborative teams.
Explore the Steelcase Flex Collection.