Steelcase Platinum Partner 2022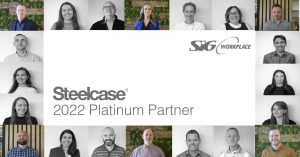 SIG Workplace is proud to once again be awarded the Steelcase Platinum Award for 2022.
We are one of only three Steelcase dealerships to be awarded this prestigious certificate in both the UK & Ireland.
A Platinum Partner is  a certificate of excellence granted by Steelcase, recognizing best-in-class dealership performance across EMEA, analyzing the highest level of service, quality, commitment & experience provided to their clients.
Thank you to all of the SIG Workplace team, our customers & clients and of course to the Steelcase team for making this prestigious recognition possible!