Steelcase Sustainability Strategy
Steelcase is announcing new science-based targets that position the, to become carbon negative by 2030 – decades ahead of the 2050 Paris Agreement mandate.
Carbon Highlights
Reduce Absolute Emissions
Align targets with science to reduce emissions for owned and controlled facilities and assets.
Uphold Renewable Energy
Continue to invest in renewable energy equivalent to 100% of our global energy consumption.
Invest in Carbon Offsets
Embrace a more transformational approach by choosing offsets that benefit people, communities and the planet.
Increase Energy Efficiency
Identify and invest in greater efficiencies by auditing our top emitting facilities.
Advocate for Green Policies
Use our voice to push for climate positive efforts with local and federal governments.
Promote Low-Carbon Economy
Continue to work with Steelcase employees to reduce travel and transition to a low-carbon economy.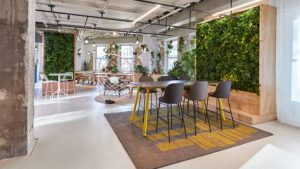 Designing for Sustainability
Steelcase believe that providing the best solutions for their customers begins by ensuring they're the best solutions for our environment. That's why every step of the way – through design, manufacturing, delivery and product lifecycle – they consider the impact of their work on people and on the environment and uncover opportunities to make things better.
Materials Chemistry
Knowing. Acting. Solving. We take a comprehensive approach to understanding what goes into our products we're both precautionary and proactive.
As a leader in our industry, our materials chemistry practice assesses materials to understand their potential impacts on human and environmental health. To date, we have assessed over 1,600 materials. We are actively working with our supply chain to eliminate and phase out materials of concern and to develop suitable alternatives where they may not yet exist.
Life Cycle Thinking + Assessments
Turning Insights Into Action. We rely on a human-centered approach to design, uncovering insights that translate into careful attention for people, our planet and the living things it supports.
We design products for circularity by avoiding and eliminating materials of concern, optimizing performance throughout the life cycle and for remaking, recovery, and end of life strategies.
End-of-Use Strategies
Closing the loop. Our products are designed for easy disassembly, allowing pieces to be separated easily and quickly for replacement or recycling.
Every year, we extend the useful life of thousands of products. through our end of use program, we're helping businesses dispose of their surplus office furniture in socially, economically and environmentally responsible ways. First, we work with them to understand the situation. Then,with our partners, we present options that meet their goals, whether it's income, landfill diversion or charitable donation.
Click here to read the full Steelcase 'Carbon Neutral Now.Carbon Negative Next.' article.